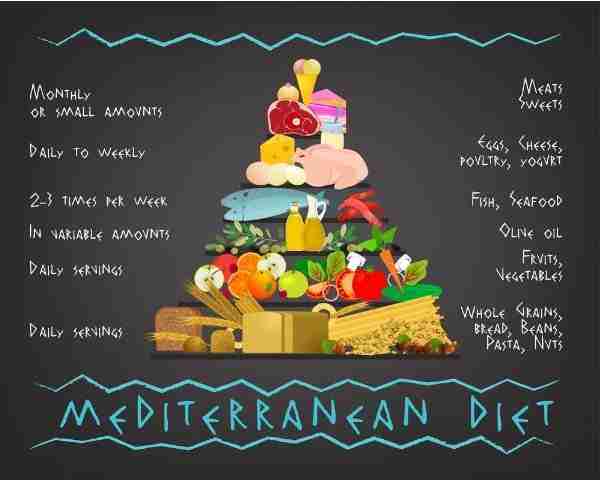 This no-nonsense "Mediterranean Diet Guidelines" has been put together here, especially for beginners. Read on to learn about the mediterranean style of eating and drinking. You can find here: (i) What is the healthy Mediterranean diet? and (ii) What are the Mediterranean diet basics, rules and characteristics.
What Is A Mediterranean Style Diet?
The Mediterranean Diet is an eating style that involves foods and drinks, which traditionally form diet of the 16 countries that border the Mediterranean Sea.
Actually, there does not exist one "Mediterranean" diet. Typically, the Mediterranean Diet is based on eating and drinking habits of about 16 countries, which border around the Mediterranean Sea.
An ideal plate based on the Mediterranean diet is nutritionally wholesome, balanced, diverse and rich in different colors, flavor, and texture. It comprises of leafy greens; red or orange carrots, purple grapes; ruby-red salmon; and nutty, crunchy farro.
It's abundant in plant-based foods such as vegetables, fruits, healthy whole grains, legumes, nuts, seeds and olive oil. It's Greek yogurt added with figs, dates, and/or a sprinkle of honey. So, it's delicious and not too much restrictive. Unlike most diet plans, this eating style lays down overall guidelines and recommendations instead of restrictive rules.
For example, it doesn't discourage fat. However, it encourages only healthy types of fat like monounsaturated fat from olive oil and polyunsaturated fat (particularly omega-3 fatty acids) from some kinds of fish and shellfish. Unhealthy fats like trans fats and saturated fats, which are often contained in processed foods and red meat, are not encouraged.
Although, the Mediterranean diet is mainly plant-based, it is not solely vegetarian. While fish, shellfish, and a modest amount of poultry are ok, but they should never be allowed to surpass whole grains, vegetables, fruits, or legumes in a meal.
Another main constituent of the Mediterranean diet is lifestyle. It advocates social element of eating by way of sharing meals with family and friends as many times as possible – it can be on a weeknight or special occasion.
Eat slowly, relish each bite, and don't shy from having a glass of wine – because wine provides antioxidants. However, remember to drink in moderation only.
You should also drink enough water throughout the day, because keeping your body properly hydrated means that your body systems will function effectively.
Another important recommendation of the Mediterranean diet life style is to make physical activity a part and parcel of your daily routine – may it be simply walking during your lunch break, cycling or whatever and enjoy the fresh air.
In the United States, the Mediterranean diet gets the hype rightly – because of a need for healthier eating patterns and lifestyles. The Centers for Disease Control (CDC) has categorically stated that heart disease is the prime cause of death in America for women and men, because of bad diet habits, lack of physical activity, and resultant obesity.
Although, since 1970s the diet experts have been trying to link a Mediterranean-style diet and improved cardiovascular health – but this approach became popular only several years later.
A non-profit organization, Oldways Preservation Trust, advocated the Mediterranean Diet pyramid (see the picture above) in the 1990s, and presented to the Americans another philosophy to healthy eating different from the USDA food pyramid.
Through reliable research, intensified backing from experts, and constant education to the public, the Mediterranean diet is now considered as a potent weapon to fight the growing epidemic of heart disease in the U.S.
Healthy Mediterranean Diet Basics And Guidelines
What exactly does a Mediterranean style diet look like? Here below are stated the primary Mediterranean diet's eight rules:
(i) High consumption of vegetables, fruits, nuts, seeds, whole grain bread and other cereals, legumes, potatoes, beans, herbs, spices.
(ii) Extra virgin olive the main source of monounsaturated fat. Refined oils are totally avoided.
(iii) Dairy products, poultry, cheese, yogurt and fish are consumed in low to moderate amounts.
(iv) Red meat is eaten very little.
(v) Eggs are eaten zero to four times a week.
(vi) Don't drink sugar-laden beverages. Don't eat refined grains, processed meat and highly processed foods.
(vii) Drink mostly water. Drink low to moderate amounts of wine; one glass a day is ok.
(viii) Remember, Mediterranean diet is not only about eating. It's basically a lifestyle that also includes daily physical activities and sharing meals with family and friends, as often as you can!