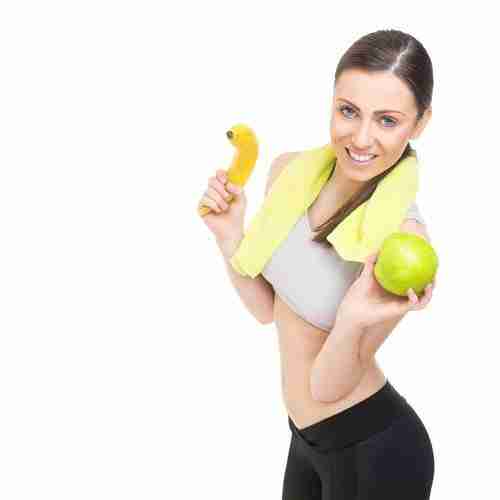 Have you hit a plateau? That is, you are not gaining any more muscle mass. Whereas your workout routine may be partly a culprit, don't overlook another equally important factor – nutrition. During a workout, your system breaks down muscle glycogen and muscle protein structures. Therefore, after a workout eating is a must – especially foods containing a mix of protein and carbohydrates. These nutrients are needed by your body critically to replenish lost energy and repair muscle tissues to facilitate new muscle growth.
Tip For Weight Watchers: After a sweating workout you may feel that you deserve a burger and fries, but watch out if weight loss or weight control is one of your goals then it's crucial to feed your body without taking in more calories than what you have just burned.
If you are in a dilemma about what a healthy after-workout snack looks like, check out here for some good post-workout snack ideas that are ideal for getting the most out of your workout routine!
1. Apple With Peanut Butter: Anchored at the top of our list is this zero prep time after workout snack. Simply one small apple with a tablespoon of almond (or peanut) butter is under 150 calories, a perfect low-calorie post work out snack – sufficient to nurture the muscles but not so enough to waste your workout efforts. In case you need an extra dose of carbs, just mix in a few grapes.
2. Chocolate Milk: Chocolate milk works as an effective after-workout nutritious drink due to its balanced combination of carbs, protein, fat, and the BCAAs (branched-chain amino acids). It's also a delicious, easy choice on the go. It can work as an accompaniment to most of the other items on this list. A recent study reveals that chocolate milk substantially replenishes drained-out muscles and quickens the recovery process. That's the reason the marathon runners are many times rewarded with chocolate milk cartons when they cross the finish line.
Fitness Tip: To fortify it with more protein, just mix in a tablespoon of protein powder and blend it completely using a blender or shaker to make a smooth drink.
3. Dried Fruits And Nuts – Trail Mix: If you don't have time to whip up a post-workout snack, trail mix is a simple solution on the go. You just have to ensure that you pick the right ones – stay away from those yogurt-covered raisins, chocolate bits, and M&M's! Also, keep portions in check. One handful is enough to boost your body after a workout. You'll get a healthy treat of protein from the nuts with a bonus of an instant jab of simple carbohydrates from the dried fruits. Simple carbs are not only easy to digest, but they provide you with muscle glycogen faster than complex carbs – making this on-the-go snack a top post-workout snack.
Fitness Tips:
(i) Consider filling a plastic baggy with this healthy mixture to stow in your gym bag for immediate access after your workout.
(ii) If you are apprehensive about the nutritional mixes, try one of these recipes to make your own trail mix.
4. Fruit Smoothie: Ever-popular fruit smoothie is such a killer way to nurture your body and muscles after a workout. Its versatility has prompted us to include this in our top post-workout snacks. Liquid foods are easy to digest, quickly assimilated, and above all very convenient. To get the best from your smoothie, blend together some whey protein, yogurt, skim or soy milk, a little high-GI fruits (like mangoes and melons), and some banana for its bountiful potassium. The outcome will gratify even the most challenging muscles.
Fitness Tip: Try these powerful fruit smoothies.
5. Protein Shakes: A protein shake works as a nutritious powerhouse after a workout. Most of the protein shake recipes power you up with the perfect blend of protein and carbs. Everything your body requires comes in one easy glass to guzzle down, many of them are nice looking and can appease your taste buds.
Fitness Tip: Try this protein-powered vegan milkshake that takes under five minutes to prepare and savors so rich and creamy!
6. Greek Yogurt With Fruit: Greek yogurt is chock-full of protein that is what exactly your body requires to recharge and repair those worn-out muscles after you have exercised. And as you know no after-workout snack is in reality complete sans a good balance of carbs, so remember to mix in some fresh fruit or granola to the yogurt bowl.
7. Nutt Butter And Banana On Whole Wheat: Does it sound strange to you? It does work as an ideal power-full snack to refuel your body after a strenuous workout. Let me share a secret with you – Ryan Hall, the professional runner, eats this after finishing a race. This nutritious snack has it all – whatever your body requires while in recovery mode (complex and simple carbs, protein, and potassium as well).
Choose one of the above powerful snacks to gobble up after your next sweating session! And share under the comments below your after work out snack(s) with our other readers.
About Author: Renu Bakshi, AKA Fitness Buffhq, is ISSA Certified Elite Trainer. He passed 
Personal Fitness Trainer Course, Nutrition Health Coach course & Specialist Exercise Therapy course from ISSA, the USA, obtaining + 97% marks. He shares his experience and knowledge about nutrition and effective workouts to get you in the best shape of your life, no matter how old you may be. The author says: "For me, age is just a number!"