Is Exercise Good For Knee Arthritis? Read on how exercises helped a senior regain his mobility & continue his gym workouts – A Living Example!
In my block lives a retired army captain. We used to meet often in a park in our neighborhood. All of a sudden, he stopped coming to the park.
Can Exercise Help Ease Your Knee Osteoarthritis?
Few days later I saw him in evening at the milk booth. I was curious about his well being, so asked why he was not coming to the park in mornings. He told me that when he wakes up in morning he feels "pains and twinges" in his knees. So, he has visited his doctor for a checkup, the doctor has diagnosed: "osteoarthritis of the knees".
Fortunately, I had a friend who worked the City University. The researchers there were testing different exercise regimens on the people with the knee arthritic condition. I asked him to go there. Next day he visited the university and signed on. He was enrolled for a supervised aerobic-exercise & strength training program 3 times a week.
Related Link: Arthritis And Strength Training
Years ago, he might have been advised to sit back, relax, and take it easy and cautioned that exercise could put too much strain on his damaged knees. But recently, a body of study findings has found that exercise is one of the best things you can do to alleviate the pain and functional limitations of knee and hip arthritis.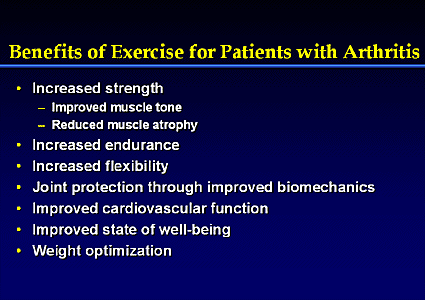 Related information: "Physical Activities And Exercises"
According to Dr. Marian Minor, PhD, PT, chair of the department of physical therapy at the University of Missouri School of Health Professions and a nationally known expert on arthritis and exercise: Exercises can make arthritis sufferers' pain levels go down and also improve remarkably their functional movements in activities like climbing stairs, getting in and out of chairs, and walking speed.
However, a bit of precaution is necessary. People who are suffering from arthritis need to avoid joint injuries. That means no contact sports or strenuous activities with a high potential for impact on the joints, such as skiing. But walking, biking, and low-impact aerobics combined with strength training have been extensively studied, which have clearly shown extremely good results for people with arthritis.
The Captain is living proof. He says: "Within 3 months of starting the program, I am having almost no pain, I can walk up and down stairs with my knees not tightening up. I can go to the gym and workout again."
He is totally convinced on exercise, so am I!
(My personal views on knee arthritis)
An Exercise For Knee Osteoarthritis – Useful Tip
Suggested Exercise: For the people with knee osteoarthritis, exercises that involve deep knee bending aren't a good idea. Instead, start with a modified squat and go down as far as you can without much pain. Best way is to stand in front of a straight-backed chair and slowly squat as if you're going to sit in it. While you squat, your knees should remain over your ankles – don't allow them move forward past your ankles. Stop if you feel any pain. Depending on your level of fitness, you can initially do 5 semi-squats 3-4 times a week, and then move up to 10.
Take Away: Exercising an arthritis knee may seem as counterintuitive, but regular exercise can in fact reduce — and even relieve/ease — pain and other arthritis symptoms, such as swelling & stiffness

About Author: Renu Bakshi, AKA Fitness Buffhq, is ISSA Certified Personal Fitness Trainer & Nutrition Health Coach. He shares his experience and knowledge about nutrition and effective workouts to get you in the best shape of your life, no matter how old you may be. The author says: "I am now healthier and fitter at 68 than I was at 28. For me age is just a number!"