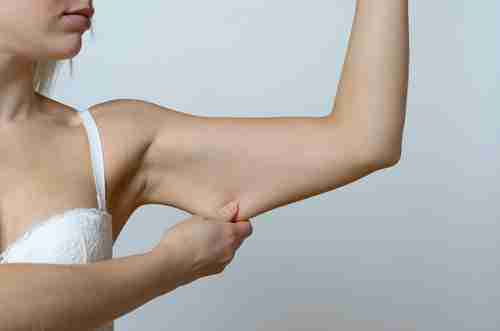 Are you aiming for a major weight loss, but want to avoid loose skin? Or if you are already facing the problem of loose skin, particularly after substantial weight loss. If it's so, you must be looking for ways to keep your skin tight. One straight answer is surgery, which we would not recommend. One it's too expensive, and two you don't know what side effects it will have. Good news is that there are some natural ways to avoid loose skin or restore elasticity and tightness to your skin.
This article is for the people who want to have a lean, strong, healthy body that looks and feels great. Read on here for learning all about the extra skin issues and what can be done about it.
How To Know Whether You Have Excess Skin Or Excess Fat?
At times excess body fat, which is soft and jiggly, may be mistaken as extra loose skin. Here is a simple method to know what you are dealing with – Actual loose skin or too much body fat.
Squeeze the area you're concerned with and if you can grip more than a few millimeters of skin, in all probability it's more of residual body fat than the loose skin. However, for most people loose skin is a mix of both overly stubborn deposits of subcutaneous fat and skin. Because subcutaneous fat is "soft" fat, it is loose and easier to confuse with the skin.
Until you get rid of that fat, your skin has no reason to return to its former size and elasticity. Remember that skin isn't a curtain of passive, inert flesh–it's a living organ that adapts to its internal and external environments. As long as the subcutaneous fat attached to it remains, your skin will appear loose and will sag.
How To Get Rid Of Excess Skin?
Here are steps you can take to make your skin tighten more quickly and even to prevent in the first place.
Improve Skin Elasticity
If your skin lacks elasticity–its natural tendency to expand and shrink as needed is lost, so you cannot expect it to shape itself in accordance with your body size and structure – whether already happened or is happening due to rapid weight loss or after pregnancy, etc. Skin loses elasticity also as a natural process as you age, even it can beset you at younger age also. Here are the things you can do to improve skin elasticity:
(i) Stop Smoking: Studies show that smoking damages Collagen and Elastin, and decreases your body's levels of Estrogen, which help keep skin supple and firm. The longer you smoke, the more wrinkling you'll experience. And while quitting won't reverse the damage your skin has already incurred, you can prevent it from worsening by quitting now. So, keep away from smoking, if you want healthy, vibrant skin and tight skin.
(ii) Eat Enough Protein: Protein helps maintain your skin moist, wrinkle-free and elastic. Studies show low protein diet affects your skin leading to poorer skin health and inflict skin dryness, wrinkles, and poor elasticity more likely. On the other hand adequate protein diet results into healthy skin and skin youthfulness. Other benefits of a good protein diet that you get are: (i) building of more muscles and getting stronger and (ii) Losing of more fat and less muscle loss.
(iii) Eat A Well Balanced Healthy Diet: Your body needs a wide spectrum of vitamins and minerals to carry out the millions of biological processes that keep your skin's elasticity and collagen alive and healthy, and eating several servings of fruits and vegetables every day is the only reliable way to provide everything your body needs. Eating a healthy, balanced diet rich in omega-3 Fatty Acids and Vitamins A, B, C and E helps protect your skin from free radical damage, increase Collagen production and reverse signs of aging. Eat plenty of fish, leafy green vegetables, fruits and nuts. Drink green tea, which is packed with powerful antioxidants. And avoid alcohol, which can dehydrate the skin.
Tip: Studies show that higher intake of fruits and vegetables is linked with healthier, better-looking skin.
(iv) Consider Supplements: There are no worthwhile substitutes for a healthy, balanced good diet, and we don't recommend any pills or powders. They will not help you get rid of extra skin, though you can consider having these two supplements that can speed up your efforts to improve the look and quality of your skin:
(a) Gelatin: A type of protein derived from collagen, gelatin is found in animal parts that provide us with important amino acids, the "building blocks" of proteins. Collagen is considered a primary building block for skin and is partially what gives skin a youthful, healthy appearance. Deficiency of gelatin can lead to development of cellulite, loose skin and fine lines as a result of skin losing its firmness. Gelatin isn't the easiest thing to fit into your diet plan, that's why it's simpler to take it in it's supplement form as a powder. You can mix it in to to smoothies, shakes, any other drink or food. A dosage of 250 mg per day is enough.
(b) Fish Oil: The Essential Fatty Acids in fish oil are known for their ability to help improve skin elasticity and tighten loose skin, and are recommended to those looking for help with stretch marks or loose skin after weight loss. A high quality fish oil is one of the best all-round supplements you can take to see the positive results in 3 months time. But you need to choose right type of fish oil for this purpose. Considering the way they are processed, broadly two forms of fish oil are available on the market today: the triglyceride form and the ethyl ester form.
Whereas the triglyceride form is the type that is in its natural state, the ethyl ester form is a processed version of the triglyceride form that contains a molecule of ethanol (alcohol).
Although, lots of studies have shown the benefits of supplementation with fatty acid ethyl esters (FAEEs), but research has also found that the triglyceride form is better absorbed by the body.
Build Muscles To Get Rid Of Extra Skin
Building muscles is a proven way to tighten loose skin. Underneath your skin, there are two layers of tissues – fat and muscle, both of which press up against your skin and keep it from sagging loosely. When you gain a large amount of weight, the skin elasticity allows the skin to expand commensurately to accommodate the increase in body size. On the other hand when you lose the fat, and particularly when you lose it rapidly, your skin doesn't necessarily shrink in same proportion to the rate at which your fat cells are losing. Consequently, this disparity results in to loose skin.
Moreover, many people use crash dieting program plus also extensive cardio to shed fat quickly, which also lead to considerable muscle loss, further widening the gap between the skin and underlying tissues. So, it is obvious that building muscles is a perfect solution to all these miseries. The muscles work as natural fillers to fill in looseness in the skin, thereby tightening the skin and giving it healthier look. This trick works for both people – who have already lost a lot of weight and those who are just beginning.
Total Fitness Tips:
(i) If you're currently concern with problem of loose skin, you should start lifting weights (strength and resistance workout).
(ii) If you're starting a weight loss regimen, be sure to include weightlifting in it (strength and resistance workout).
Try the above tricks with patience, and see the skin getting tightened in a few months time. There is good probability that you may eliminate your loose skin problem completely
Useful Related Article: How To Tighten Loose Skin