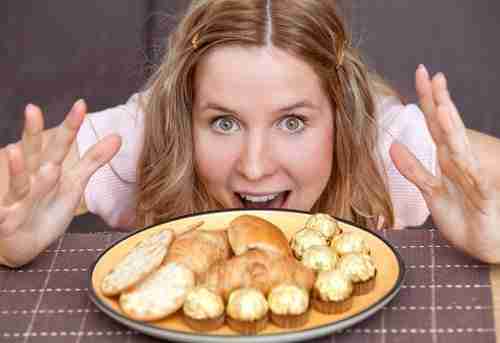 You will find countless diet and weight loss tactics, from powders, pills and potions, to unorthodox treatments, like ice baths and ear clips. So when you come across any such gimmicks, your first step should be to check out the science behind it, and often times, there isn't any. However that doesn't mean there's no legitimacy, it does mean there are many unanswered questions, like how much, how often, and what are the side effects?
I have often found that even products and tactics with studies behind them have more risks than benefits. One University of Alabama professor has gone to the extent of claiming that most weight loss aids are a waste of money, including which some celebrities swear by.
My first mantra in health care is always: first, do no harm. Here are 14 natural tips for healthy weight loss. They are safe & effective ways to curb hunger & cravings leading to faster weight loss.
Appetite Suppressant Natural Ways To Lose Weight
Here are 14 all natural appetite suppressant healthy tips that can either help curb your appetite or delay the return of hunger–and they won't make you miserable:
1. Keep A Food Journal / DIARY: Do you know simply by making one change in your habits, you could double your weight loss? It may sound too good to be true, but many experts claim that the simple act of keeping a food diary can motivate you to eat fewer calories — and thus lose weight.
For one thing, keeping a food diary right away enhances your awareness of what, how much, and why you are eating. This helps you cut down on mindless munching, says Megrette Fletcher, MEd, RD, executive director of The Center for Mindful Eating.
2. Drink Enough Water A Day: You might have heard it more than once: drink more water to help you eat less and lose more weight. But does water really help you lose weight? The short answer is yes. Drinking water helps boost your metabolism, cleanse your body of waste and works as a hunger suppressant. Also, drinking more water causes your body stop retaining water, leading you to drop those extra pounds of water weight. So, make sure that you're drinking the recommended eight-to-ten 8-ounce glasses per day to keep yourself hydrated and boost weight loss.
3. Eat More Greens: Greens tend to be lower in calories, yet pack a way more powerful punch when it comes to keeping you healthy and full for longer – hence they make you eat less. This all means you may tend to eat fewer calories, while still feeling satisfied.
4. Cook With Fat Free Broth: Cooking with fat free broth is a good way to lose weight quickly while also giving your digestive system a break. Broths provide protein with very few calories. If you include pureed fruits, greens and nonfat yogurt in a liquid diet, you can meet many of your nutritional needs and lose weight pounds quickly.
5. Eat Whole Grains: Whole grains are naturally low-fat and cholesterol free; contain 10% to 15% protein; and offer loads of fiber, minerals, vitamins, antioxidants, phytochemicals, and more. And you will be eating less thus resulting into quick weight loss, as some experts say.
Moreover, switching to 100% whole-wheat or whole-grain bread is easy, especially now that so many 100% whole-wheat products are available in supermarkets — from hot dog buns to breakfast cereals to pasta.
The trick for switching to whole grains is to keep trying products and brands until you find one that works for you and your family.
6. Use Skim Milk: Switching from whole to skim milk is the best way to acquire essential dairy nutrients and cut down on your intake of saturated fat and cholesterol as well. Skim milk has lower than 0.5% milk fat and is generally labeled as "fat free". Therefore skim milk is equivalent to whole milk on every nutritionally aspect other than its total calories, fat and cholesterol contents, making it an ideal dietary choice for cardiovascular health and weight loss management.
Skim milk has an equally high amount of proteins as regular milk. An average cup of skim milk contains about 8.7 grams of proteins which is 17% of your recommending daily intake. Higher-end brands of skim milk are fortified with high protein powder, increasing its protein content to as much as 12 grams per serving. Studies have found that protein-rich foods are more satisfying and can help suppress your appetite. A diet of low fat, high protein foods is proven to lower daily caloric intake and provide desirable weight loss results.
7. Take Your Time Eating: Many research studies suggest that people who eat slowly tend to consume fewer calories and stay fuller longer than those who eat quickly. As per one more study, the quicker we eat, the less time we give our bodies to register fullness. As a result we end up eating way more than we would have, which can lead to excess body fat storage or weight gain. So, the slower we eat, the more time we give our body to feel satisfied and with the result we tend to eat less.
8. Use Smaller Plates: Journal of Consumer Research has discovered an easy way that your mind tricks you into eating less without you knowing it.
Wansink and Van Ittersum have found that smaller plates help us to eat less, thanks to a powerful optical illusion known as the Delboeuf Illusion.
Family Weight Loss Tip: When it comes to eating less, researchers have long known that a simple way to cut calories is to use a smaller plate. In one experiment, conducted by Brian Wansink from Cornell University and Koert van Ittersum from the Georgia Institute of Technology, it was discovered that a shift from 12–inch plates to 10–inch plates resulted in a 22% decrease in calories. Assuming the average dinner is 800 calories, this simple change would result in an estimated weight loss of more than 10 pounds over the course of one year.
9. Exercise: It's a well-known fact that you have to burn more calories than you eat and drink to lose weight. Exercise pays off in the long run by keeping the pounds off. Many research studies show that getting regular physical activity (exercise) is one of the best ways to lose weight.
10. Eat More Sea Food: There are countless diet plans that claim to help you shed excess pounds quickly and safely. However, the only tried and true way to lose weight is to eat fewer calories than you burn. Because most seafood is low in fat and calories, it's a nutritious food to add to your weight-loss plan, particularly if you use it to replace fattier and higher-calorie cuts of meat.
11. Use Meat As A Condiment: It's a known fact that we should eat less meat. We all know the reasons why, but what we don't know is how to do so? Why not treat it as a condiment? A flavoring? A TREAT?
Read here for many traditional styles of cooking, treating meat as a condiment.
12. Eat More Fiber Dense Foods: Many research studies have concluded that people who add more of fiber to their diets — without changing anything else – can lose almost as much weight as people who followed the heart-healthy, low-fat eating plan recommended by the American Heart Association.
The study added to a growing body of evidence that people who eat more fiber tend to have a healthier body weight.
While high-fiber foods tend to be healthy (such as fruit, veggies, whole grains), what is equally important is that this kind of diet is easier to stick to than the structured diet plans.
13. Eat More Vegetarian Meals: Eating meat-free meals does have genuine weight-loss benefits. Why? Plant-based foods, like vegetables, beans and whole grains, are packed with that helps you feel satisfied on fewer calories. Increasing fiber intake has been shown to help prevent weight gain—and even cause weight loss. Bonus point is that going meatless helps to reduce your risk of heart disease.
14. Healthy Snacks: When your appetite is out of control, you tend to overeat between and at meals. If you snack between meals, you can suppress your appetite by selecting the right foods. Foods high in fiber and water help fill your stomach for minimal calories. As a bonus, high-fiber snacks keep your blood sugar levels steady, which also helps to control your appetite.
Useful Related Posts:
Natural Diet – Super Foods For Weight Loss
Why You Are Not Losing Weight?

About Author: Renu Bakshi, AKA Fitness Buffhq, is ISSA Certified Elite Trainer. He passed 

Personal Fitness Trainer Course, Nutrition Health Coach course & Specialist Exercise Therapy course from ISSA, USA obtaining + 97% marks. He shares his experience and knowledge about nutrition and effective workouts to get you in the best shape of your life, no matter how old you may be. The author says: "For me age is just a number!"