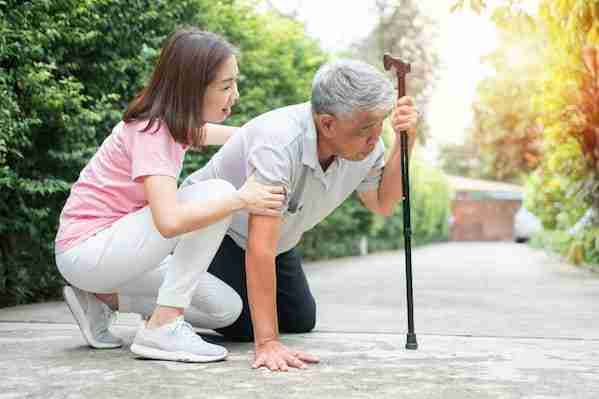 Include this trainer-approved exercise in your routine to stay strong as you get older to reduce potential risks of fall, fracture, & injuries.
As you age, you may find yourself challenged with health issues you hadn't previously faced. Among the more common concerns is a fear of falling and fracturing bones.
To quote the World Health Association (WHO): "Falls are the second most common cause of death from inadvertent injury worldwide."
According to the Centers for Disease Control and Prevention (CDC), approximately 32,000 U.S. residents die from a fall each year."
But just because you're growing older doesn't necessarily mean that falling is a foregone conclusion. Instead, experts say that the right exercise can help cut down your risk of falling and enjoy a longer, healthier life.
Preventing Falls In Elderly
According to the experts: "The best exercises to avoid falls are strength training: strengthening muscles, particularly in your legs, to help improve coordination and balance as well as increasing the amount of muscle – especially single-leg balance toe touches regularly."
Single-Leg Toe Touch, a bodyweight exercise, is an effective way to work on your balance. You don't need much space and can do it easily at home.
How To Do Single-Leg Toe Touch?
(i) Begin standing with all your weight on your left foot.
(ii) While engaging your core, keeping your spine long, and bending your left knee, reach forward and touch the floor with your fingers a few inches in front of your toes. Allow your right leg to go behind you to help you maintain balance.
(iii) Press your left heel into the floor as you raise your torso to stand, bringing the right foot to touch next to the left foot. This completes one rep.
(iv) Do three sets of twelve to fifteen reps on each side.
In fact, as per an analysis reported in The BMJ, which reviewed a group of 17 studies, fall prevention exercises focused on balance training helped cut down fall-related injuries by 37%. Furthermore, while falls that caused serious injury were cut down by 43% due to performing these exercises regularly, broken bones were reduced by 61%.
Also, adding reverse lunges and box jumps into your routine effectively improves your stability, balance, and strength.
[Related: Over 50? Seven Best Tips To Keep Your Knees Healthy & Pain-Free]
What If You Don't Like To Exercise?
Here's good news for those who don't like to exercise. Simply moving more may help reduce your fall risk. For example, a 2020 review reported in the International Journal of Behavioral Nutrition and Physical Activity, which analyzed 116 studies involving 25,150 participants, while exercise as a whole lowered fall risk by 23% implementing three or more hours of balance and functional exercise into participants' routines decreased fall risk by 42%.
About Author: Renu Bakshi, AKA Fitness Buffhq, is ISSA Certified Elite Trainer. He passed 
Personal Fitness Trainer Course, Nutrition Health Coach course & Specialist Exercise Therapy course from ISSA, USA obtaining + 97% marks. He shares his experience and knowledge about nutrition and effective workouts to get you in the best shape of your life, no matter how old you may be. The author says: "For me, age is just a number!"