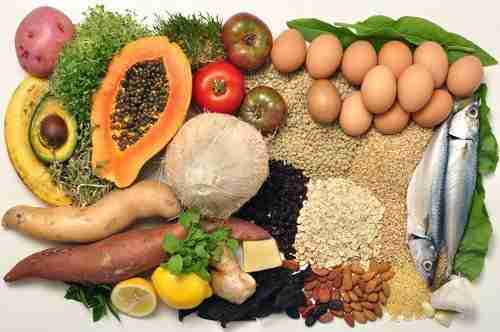 We have talked to some top diet experts to find out what are the best super foods for whole family fitness. We have picked up 12 top most healthy-food items that you should be putting in your trolley. Food malls are full of super foods that can make you fitter, younger looking and pump you with more energy.
Although, most of us know importance of 5-A-DAY of fruit and vegetables, but our frantic lifestyles most of the times make our schedule go haywire.
So we decided to make a list of super foods, which will be easy to be included in your whole family diet so as to ensure that your family gets all the nutrients it needs.
Considering the needs of cool school going dinners for the kids to tasty tea for the elderly, here is a list of 12 super food items that you can make a part of your family regular balanced diet to keep your family members totally fit and healthy.
Family Fitness Super Foods
1. Tomatoes: They are one of the healthiest food, and just 10 servings in a week can cut down the hazard of prostate cancer in men (women don't have prostate) by about 30 percent. Moreover, they are rich source of quercetin and the great antioxidant lycopene, which help maintain mental and physical functions in elderly people. Add them in a salad or enjoy the cherry variety along with a sandwich.
2. Blueberries: These fruits are native to North America and chock-full of vitamin K, vitamin C, fiber, manganese and many other antioxidants. Blueberries can be tastefully added to cereal, yogurt or as a simple lunchbox snack for school or office going members of your family.
3.Wholegrains: Choose whole-grains like whole-wheat flour, unpolished brown rice, wholegrain bread and oats. They help in improving your digestion and lower cholesterol levels. Moreover, they keep you fuller for longer time, so that you don't unnecessarily snack on unhealthy foods. It's a healthy habit to begin your day with a wholegrain cereal for breakfast.
4. Eggs: They are one of the most nutrient-dense foods that you must include in your family diet. A recent study published in the Nutrition and Food Science journal corroborated that out of all the protein foods, eggs possess the healthiest mix of essential amino acids. A balanced mix of amino acids are especially needed for proper growth and repair – so make sure that all your family members, whether children, adolescents, young adults or aged folks eat them daily. To get the best out of them consider eating poached eggs.
5. Yogurt: Yogurt is an amazing health food. It contains lots of probiotics that help balance bacteria in the digestive tract. They are also good in promoting your immune system to ward off illness and lower your blood pressure. Always keep stock of it for your family members to take it in breakfast or during the day as a healthy snack or dessert treat.
6. Broccoli: Broccoli has more calcium than any other vegetable in the grocery aisle. It's a rich source of iron and folic acid and also contains quercetin that helps reduce the risk of heart disease and heart attacks.
A recent study found that eating more non-starchy vegetables, such as broccoli, is linked with a lowered risk of cancer as well. Consider making it one of the vegetable compliments in enriching nutritious value of your main meal.
7. Avocado: It may sound strange to you, but avocados contain more potassium than bananas. Bonus point is that they are packed with glutathione, which is the most potent antioxidant that wards off the toxins from your body and also helps neutralize bad fat.
You can include avocados in your family diet by way of eating them as starters, mains or even desserts. Consider complimenting them with yogurt, almond milk and cocoa powder. Yummy!
8. Sweet Potato: They are rich source of vitamin B6, vitamin C and also contain vitamin D, iron and mag­nesium. Bonus point is they are packed with fiber as well, thus try to eat them with skin whenever possible so as to keep intact more of its goodness and vitamins.
They taste good, so you can include them in your family 5-A-DAY as they are usually eaten in addition to the starchy food part of the meal. Count them as a tasty alternative to chips.
9. Oily Fish: They contain Omega 3 oils that are abundantly found especially in salmon, tuna, sardines and herrings. Include these in your family diet at least twice a week to help lower blood pressure, as well as safe guard your arteries.
10. Nuts: All types of nuts are chock-full of protein, fiber, essential fats,  various vitamins and minerals, including magnesium.
Keep them handy to snack on them throughout the day. Can also be blended and mixed into smoothie or children's sandwiches to give them a healthy boost.
Nuts are an amazing snack to nibble on throughout the day to keep you full and avoid snacking on unhealthy foods.
11. Pomegranate: The Middle Eastern fruit is full of antioxidants, vitamins and fiber, and is claimed to be effective against high blood pressure, heart disease and some cancers.
Simply one 150ml glass of pomegranate juice is good enough to meet the requirements of one of your 5-A-DAY – but make sure to do away with any sort of added sugar. Alternatively, you can add on these on a salad or mix in with yogurt for added flavor and taste in every mouthful.
12. Kale: This vegetable although looks like lettuce but comes from the cabbage family and are a rich source vitamin A and C, calcium and antioxidants. Add on to your salad, steam as a side or even blend in with a smoothie.
Kale works well as steamed and can be served along with grilled chicken, or as part of a nutritious salad.
Please share here your family preferred food items…