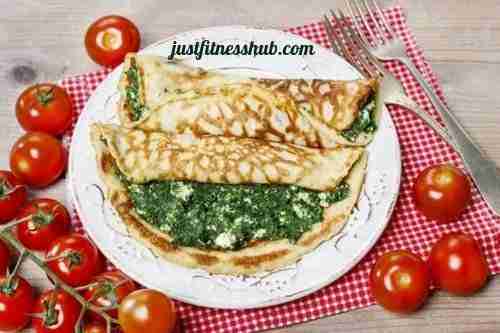 The Mediterranean diet is rightly boasted as one of the healthiest diets. It has numerous health benefits such as preventing heart ailments and many other diseases that come with aging.
The Mediterranean diet is primarily plant-based – abundant in fruits, vegetables, legumes, whole grains, lean sources of protein like fish over red meat and healthy fats like olive oil, nuts and omega 3s (sea food). This healthy eating style is based on the traditional eating habits of people inhabiting around the Mediterranean Sea.
It's fun to come up with Mediterranean diet inspired breakfast ideas and recipes. Continue reading here for the Mediterranean diet foods, which you can mix and match to make quick, tasty and healthful breakfasts.
# 1
Dairy – Yogurt And Cheese
Although, a typical traditional Mediterranean diet plan doesn't places much emphasis on dairy products, yet yogurt and cheese play an important role in Mediterranean diet breakfast recipes because they provide us not only protein and vitamins, but also calcium that your body requires to keep the bones healthy at any stage of human life.
Greek yogurt, which is formed by straining to make it more concentrated with protein, is same as many of the traditional yogurts of Mediterranean region. But we strongly recommend that you use low-fat, plain (unflavored & unsweetened) yogurt and sweeten it yourself with fruit like berries or bananas, or a little bit of honey in order to keep the sugar content with in healthy limits.
Another option is to eat a small amount of fresh cheese, like ricotta fresh cheese, mozzarella or burrata (instead of yogurt) or use them as a spread for whole grain toast or bagels.
# 2
Fruits
Cherries, apricots, nectarines, peaches and citrus fruits form an integral part of a typical, traditional Mediterranean diet, but otherwise almost any fruit can be eaten as breakfast food in this diet.
Apples are a great breakfast option, either plain or along with a small amount of peanut butter or cheese.
Although drinking fresh juice is OK, but eating a piece of fruit – preferably with skin – is healthier for you and more satisfying too.
The traditional Mediterranean diet style does not include sugar, except on very special occasions. It includes only fruit or healthful natural alternatives like dates instead of refined sugar. Add a couple of mashed dates to plain yogurt for sweetening (if you want your yogurt to be sweet), or stuff whole dates or figs with a bit of ricotta cheese.
# 3
Vegetables
The Mediterranean diet puts a major focus on vegetables, and you should aim to eat plenty of it every day. But remember the Mediterranean diet discourages use of saturated fats, so steer clear of breaded and fried vegetables.
The way to eat vegetables, if you are on Mediterranean diet, is to eat them grilled, steamed or raw because the Mediterranean diet is not heavy on saturated fats. Avoid breaded and fried vegetables – simply cook lightly or drizzle with extra virgin olive oil or eat them raw as a part of salad.
For a delectable breakfast, sauté vegetables (like zucchini, tomatoes, mushrooms or artichokes) slightly in a bit of olive oil.
You may sprinkle a little bit of feta or Parmesan cheese along with Mediterranean herbs like basil, oregano, thyme or rosemary to vary the flavor and taste of the vegetables as per your choice, without adding too much of fat.
For a protein punch, scramble an egg and add in some diced tofu or a handful of cooked shrimp.
For your ready reference, here is the list of vegetables that are preferred in a Mediterranean diet:
Arugula, artichokes, beets, broccoli, Brussels sprouts, carrots, celery, celeriac, chicory, collard greens, cucumbers, eggplant, kale, lemons, lettuce, mushrooms, mustard greens, nettles, onions (red, sweet, white), peas, peppers, pumpkin, potatoes, rutabaga, scallions, shallots, spinach, sweet potatoes, zucchini, turnips.
# 4
Whole Grains And Cereals
Make sure to eat whole grains as a smaller side dish to prevent consuming too many calories and elevating your blood sugar level with too much of carbs.
Another useful trick is to avoid using butter and jam, and instead spread mashed avocado, peanut butter, or hummus on to whole-grain plain toast. If you want, you may drizzle a little bit of honey thereon as well.
And when on a day, you are in a mood to eat cereal – consider having your favorite whole-grain cereal with milk or yogurt, hot or cold, and sweetened with diced fruit as per your choice. You may also top it with some chopped nuts to spruce up texture and for adding some healthy fat.
For variation, you may try bulgur – a fast-cooking version of cracked wheat. You may steep it in boiling water or quickly microwave it, and then toss in some fruit and chopped nuts and sweeten it with a drizzle of honey.
Mediterranean Breakfast Ideas
As in other parts of the world, breakfasts in the Mediterranean countries also vary depending on – whether it's a weekday or weekend. On the weekend, breakfast (or brunch) is usually an opportunity to get together with family & friends, relax, and relish a traditional delectable spread.
During the weekdays, Mediterranean style breakfast is quick and light. Here are some Mediterranean diet breakfast ideas:
Day 1: Oatmeal With Milk, Fruit (Apple) & Nuts
Ingredients:
(i) Oatmeal: 1/2 cup cooked in half-cup skim milk & half cup water
(ii) Apple: 1/2 medium size, diced
(iii) Walnuts: 1 tablespoon, chopped
Toss the chopped apple & walnuts in cooked oatmeal. Add a pinch of cinnamon. If you want, may add in a drizzle of honey to sweeten it.
Day 2: Oatmeal With Milk, Fruit (strawberries) & Nuts
Ingredients:
(i) Oatmeal: 1/2 cup cooked in half-cup skim milk & half cup water
(ii) Strawberries: 1/2 cup, sliced strawberries
(iii) Walnuts: 1 tablespoon, chopped
Toss sliced strawberries & walnuts in cooked oatmeal. Add a pinch of cinnamon. If you want, may add in a drizzle of honey to sweeten it.
Day 3: Egg And Whole Grain Toast
Ingredients:
(i) Whole-wheat bread: 1 slice, toasted
(ii) Avocado: 1/4 medium size, mashed
(iii) Egg: 1 large
(iv) Olive oil: Extra virgin, 1/4 teaspoon
Cook the egg in 1/4 teaspoon of extra virgin olive oil (just coat the cooking pan with a thin layer of the oil). Season with a pinch – each of salt, pepper and any herb of your choice. Top the toast with mashed avocado & cooked egg.
You may also eat 1 clementine or a citrus fruit of your choice.
Day 4: Egg And Whole Grain Toast
Ingredients:
(i) Whole-wheat bread: 1 slice, toasted
(ii) Peanut butter: 1 tablespoon
(iii) Banana: 1 medium size
Top the toast with peanut butter and sliced banana.
 Day 5: Plain Whole Grain Bagel With Cream Cheese
Apply a healthier spread such as fresh, spreadable goat cheese hummus, or guacamole on the bagel. Put thereon sliced tomatoes with a medium size fresh fruit on the side.
Other Days In Between: You can try this typical Eastern Mediterranean breakfast idea:
Flatbreads dipped in extra virgin olive oil and garnished with your favorite herbs along with a variety of hard and soft cheeses, hummus, fresh tomato and cucumber salad, olives, and fruits on the table.
We encourage you to share your breakfast ideas with us under the comments section below.